The former kings of the hardstyle scene, Showtek, have switched to making mainly big room/electro house in their more recent career. The genre switch came as a surprise to many, but it helped them gain more popularity among the mainstream in North America, which has led to the great success of their career so far. They've had a number of chart-topping singles and have been supported widely by most of the popular DJs in the scene.
On April 30th, at Mayday in Dortmund, Germany, they showed the crowd that they haven't entirely forgotten about their roots and previewed a new hardstyle track they've produced together with 'TNT' (aka Tuneboy & Technoboy). The song is a remix of "Have You Ever Been Mellow" by Tune Up! and as you can see in the video, the crowd is going absolutely wild. Could this be the return of Showtek to hardstyle? Or are they just teasing us?
Public safety authorities and electronic music crowds have never been one to get along very well. Back in 2013, the police unreasonably cut Porter Robinson's set short at Santa Barbara's Matador Music Festival while simultaneously accusing him of inciting a riot. Now, history seems to be repeating itself: in a recent clash between protesters and police, Boys Noize was forced to cut his set short due to problems between the two entities. While performing in Berlin, Alexander Ridha tried to give his fans a treat: the German producer was previewing his upcoming album Mayday. Sadly, he was not able to continue his performance due to unforeseen circumstances between the authorities and protesters. Many attendees claim that the police blew everything out of proportion, but officers have stood by their decision to break out riot gear and disperse the protesters. Check out some clips from the wild event below.
#Germany: Street battles with police during #MayDay protests in #Berlin. Reports of arrests. via @JuanMazaCalleja pic.twitter.com/SELqNFiSAn

— ѕyndιcalιѕт (@syndicalisms) May 1, 2016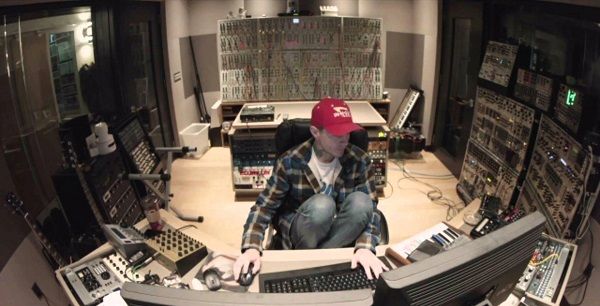 Big news for the music industry is thumping out of Washington D.C. this year, as even Congressmen are beginning to voice their opinions about the industry's reform. While big name artists such as Taylor Swift and deadmau5 have made their opinions known loud and clear about the current state of the industry, post-production workers for these artists have been left out of the big picture. As monetizing music is becoming more and more difficult with music streaming and p2p file sharing, two Congressmen have stepped in to try and "give producers the statutory right to receive compensation".
Representatives Joe Crowley (D-New York) and Tom Rooney (R-Florida) introduced a new House Bill earlier this year that would give the Producers, Mixers, and Engineers a fair share of the digital royalty pie. Aptly named The Allocation for Music Producer Act, or AMP Act (H.R. 1457), the bill outlines a framework which studio workers could then use to negotiate their compensation terms through a letter of direction process. If passed, the AMP Act would also allow the Post Production workers the ability to negotiate with artists, or their heirs, to receive appropriate royalty payments for sound recordings older than 1995. The Post-Production workers would split roughly 2% of they royalties digitally generated by the songs they apply for.
Rep. @TomRooney & I introduced #AMPAct to allow music producers to receive fair pay http://t.co/qfMOBCUJBL@GRAMMYAdvocacy@SoundExchange

— Rep. Joe Crowley (@repjoecrowley) March 19, 2015
H/T: Your EDM
The word is still out on whether Drake's Views lived up to its tremendous hype, but perhaps a more interesting note is how its rollout and Apple Music exclusivity adds to the changing nature of album sales and the metrics of success. After Kanye West's The Life of Pablo was reportedly streamed over 250 million times over a 10 day period while it was still a Tidal exclusive, the question remained if such numbers were a product of West's draw or an indication of how major albums would be released and measured in the new age of streaming.
According to Buzz Angle Music, Drake's Views sold more than 740,000 units in the U.S. over a two day period, and more than 80,000 in Canada over that same time. The website defines album project units as album sales plus individual song sales divided by 10 plus on-demand audio streams divided by 1,500. In that case, Views benefits from being 20 tracks longs and from including "Hotline Bling," which to date has been streamed more than 432 million times on Spotify.
More concrete numbers will be available once Views is released throughout the streaming world, and physical copied hit shelves on Friday (May 6) but if the forecast is any indication, it would appear that Drake's latest is major W for the artist and growing trend to embrace streaming via album exclusivity. The two-day figures for Views would total a greater number than Beyonce's first week sales of Lemonade, which was a Tidal exclusive for about 24 hours and used HBO as an added medium of presentation.
Check out the full calculations over at Buzz Angle Music.
10 Best Memes Featuring Drake's 'Views′ Cover Art
Finally! Drake drops off his new studio album titled Views From The 6! The project includes contributions from Kanye West, 40, PARTYNEXTDOOR, Future, and more. Grab the album via iTunes here.
In the coolest marketing move since unlimited fries, McDonalds' Netherlands outposts have unveiled a bluetooth paper placemat that acts as a fully functioning MIDI controller.
The placemat uses an ultra thin circuit board with 26 digital touchpoints and conductive ink to act as a full music production station that links with your smartphone. Using the integrated app, you can make music with audio looping, synth kits, and a full range of musical effects. You can even record your own voice.
"The paper of the placemat is what makes this technique so innovative," TBWA creative technologist Radha Pleijsant and digital design lead Jan Jesse Bakker said in a statement. "The phone merely acts as the speaker and screen, which is easily connected to the placemat via Bluetooth, making the sure you can hear the music on your speakers."
H/T: Adweek
Read More:
Richie Hawtin unveils brand new Model 1 Mixer
A private, interactive synthesizer museum is opening in Melbourne
Amidst SoundCloud's legal warfare and streaming reforming the industry landscape, United States congress is deciding to step in with their own proposition for royalty distribution.
Two representatives, Joe Crowley (D-New York) and Tom Rooney (R-Florida), are proposing an interesting bill aptly titled the AMP Act (H.R. 1457), short for Allocation for Music Producer Act. Essentially, this new bill hopes to honor engineers, producers, and mixers
The AMP Act would allow post-production specialists the ability to negotiate on material older than 1995 (when the 45% digital royalty rate was established. Requests will be submitted to a panel, and if approved, 2% of the 45% will go to the mixer, engineer or producer, and split amongst them in the case of multiple requesters.
While 2% doesn't seem like much, it certainly adds up in today's scene of endless streaming. However, seeing as most post-production engineers are paid a flat fee for there services, cutting into artists' royalties further might be a bit of an overstep.
We're sure deadmau5 would approve, though, given his memorable rant against Justin Bieber.
Rep. @TomRooney & I introduced #AMPAct to allow music producers to receive fair pay http://t.co/qfMOBCUJBL@GRAMMYAdvocacy@SoundExchange

— Rep. Joe Crowley (@repjoecrowley) March 19, 2015
H/T Music Times
In honor of @Drake's new album, here are a few #Views from the guys… https://t.co/KcDKyoajbk

— NBA on TNT (@NBAonTNT) May 1, 2016
A hilarious moment happened on Inside the NBA last night (April 30) and we have a certain Drake, Views From the 6 meme maker to thank for all of its comedic gold. Shaq angrily/jokingly stormed off stage after the crew showed a Views related meme that involved him and former teammate/nemesis Kobe Bryant.
Toward the end of the show, the guys decided to show off some funny Views cover memes that poke fun at each individual analyst. When it was Shaq's turn, the meme showed him sitting on top of Kobe's shoulders with the caption reading, "Views From Kobe's Shoulders." While Ernie Johnson, Kenny Anderson and Charles Barkley got a real big knee slapping laugh out of the picture, The Diesel was less than entertained.
He stormed off the set, as the crew rained down taunts over his poor sportsmanship. Shaq's antics didn't stop there. While back behind the set he continued to show off his anger pulling down random items off the shelf in disgust before pretending to attack the camera man.
This isn't the first time Drizzy's presence has made its way onto the Inside the NBA set. Aubrey joined the crew for a show back in February during NBA All-Star weekend which was held in his hometown of Toronto. Shaq was all about the fun and games then as he beatboxed while Drake recited lyrics to his infamous Meek Mill diss song "Back-to-Back." Who put the salt in Shaq's cup?
30 Albums That Will Make You Appreciate Hip-Hop
Ultra is long past, but most of the unreleased music we were witness to at the Miami festival, which was recently revealed as the #1 EDM festival in the world, is still not out yet.
Eric Prydz's dark techno alias Cirez D has one such treat for us which is coming sooner than we thought. Titled "In The Reds," Prydz details the release date as "MAY 2016." However, we've discovered a generous preview for your listening pleasure below. Check it out!
In The Reds…

— Eric Prydz (@ericprydz) April 28, 2016
?

— Eric Prydz (@ericprydz) April 28, 2016
Stream:
If you DJ or have ever watched a DJ's set, chances is that you're familiar with Pioneer and their ubiquitous music technology. Most electronic producers and musicians rely on this major music brand for live performances, podcast series, and radio mixes. As the top choice for DJ live equipment, Pioneer has just released two new items from their Rekordbox line.
The new controllers are the DDJ-RB and the DDJ-RR, and they have added some incredible new features while maintaining the classic and essential components that the DDJs are known for. From the bandpass filter to the Play/Cue buttons, the current features have become the standard in any mixer sold today. In other words, the latest members of the Pioneer family must add a level of upgraded quality that can really wow its users.
One such new feature that does just that is the "Sequence Load" that allows DJs to add samples after linking them to corresponding beat pads on the mixer. This gives the DJ the option to utilize vocal bits and sound effects into a live mix with ease. The feature also gives performers the freedom to scratch these audio cuts independently of the playing music so as to not interrupt the current track.
Another additional feature with the new Pioneer DDJs come in the form of a three band mic eq. This expansion to these new controllers gives DJs more mixing creativity when using mics to play vocals through the controller. Previous models were only equipped with two bands: a lowpass and a highpass.
A final interesting addition is the PC Master Out. This feature offers users the ability to channel audio into and out of their computer while keeping access to the mixer without interruption. In other words, the new PC Master Out option accommodates for easier practicing and performing for its users.
All in all, Pioneer might have outdone themselves in delivering the DDJ-RB and the DDJ-RR. From clever modifications and astonishing perks, it's no wonder why Pioneer is the most renowned brand in the music industry. To prove it, check out the video below that displays the latest and (possibly) greatest in mixing tech.
Both mixers will be available in late May.
Read More:
Boys Noize reveals track list and release date of new album, 'Mayday'
Boys Noize – Starchild (Feat. Poliça)
Boys Noize forced to cut set short as police and protesters clash in Berlin
As the Internet, music world and virtually all of planet Earth lose their minds over the release of Drake's fourth studio album Views, the underground beatmaking circuit has been quietly celebrating a recent flip of one of the rapper's most noteworthy tracks, "Summer Sixteen," by producer KRNE.
Released today on his Bandcamp page as a "name your price" download, the remix comes as a gritty and powerful rework of the original. It maintains the vocal-centered energy of the track while adding countless layers of visceral percussion strikes and brooding synths, leaving the structure mostly in tact. The result is an instantly familiar yet inspiring, fresh take on a track we've all come to know.
Listen to the remix below, and scroll further down to pick up your copy.
Click here to download your free copy!